Presentation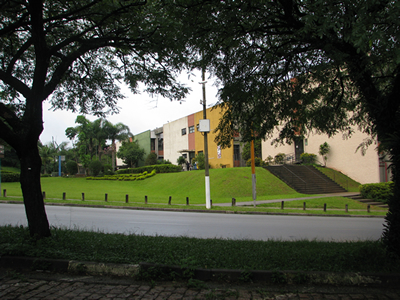 Having its roots in the old School of Pharmacy of São Paulo, created on October 12, 1898, the Faculty of Pharmaceutical Sciences (FCF), occupying an area of ​​23,200 square meters in the University City of Armando de Salles Oliveira, develops its activities always seeking excellence, to fulfill the University of São Paulo: research, teaching and service provision to the community.
In its four Departments - Food and Experimental Nutrition, Clinical and Toxicological Analyzes, Pharmacy and Biochemical-Pharmaceutical Technology, has the work of 89 professors. In terms of teaching career, there are 22 Full Professors, 14 Associate Professors and 53 Professors Doctors. This institution also has 171 technical and administrative staff: 34 higher level, 84 technicians and 53 basic level, many of which belong to Committees that advise the Board.
This structure is fundamental for the efficient maintenance of the Graduation Courses (with approximately 950 students), and Post-Graduation (with about 500 students). In order to offer the best support both to the internal public and to the external public, the Library and Documentation Division of the Set of Chemists, with an area of ​​2,755 m², currently has a collection of 101,894 books, theses, microfiche, cassette tapes, Periodicals, as well as reading rooms, reference services, photocopying equipment, databases for access to information on-line, video library and Servers.
Among the extension services offered by the Unit Departments, we can highlight:
The Department of Food and Experimental Nutrition (FBA), which provides advisory services, advice to funding agencies and research agencies, as well as technical cooperation with various food industries and public agencies, mainly in the areas of chemical and biological evaluation of food and quality control;
The Department of Clinical and Toxicological Analysis (FBC), which provides services to the community through the Laboratory of Clinical Analyzes (LAC), biochemical, immunological, mycological, parasitological, cytological, hematological and microbiological tests, and the Laboratory of Toxicological Analysis (LAT), which conducts the Anti-Doping Control in Sport and the Program for Prevention and Control of Drug Use in the Work Environment;
The Department of Pharmacy (FBF), consisting of the following laboratories:
CONFAR (Laboratory of Control of Medicines, Cosmetics, Household Cleaning Products, Related Products and Respective Raw Materials);
BIOFAR (Laboratory of Biopharmacotechnics), which provides advice to the pharmaceutical industries in various aspects related to generic drugs, dissolution, bioavailability and bioequivalence of drugs, pharmacotechnical development, technical justifications for exemption of invivo tests of bioequivalence, GMP and pharmacokinetics, among others;
FITOFAR (Phytotherapeutic Products Laboratory), whose purpose is to contribute, through research, teaching and services, to civil society and government in addressing all health-related issues when involving medicinal plants and The phytotherapeutics in Brazil. It also aims to develop the methodology for the production, analysis and quality control of herbal products in the various stages of its processing, to advise government agencies and institutions to improve legislation and authorization services, as well as to inspect and market products Plant origin for therapeutic or health maintenance purposes; The University Pharmacy (Pharmacy of USP) prepares automation projects for the Laboratory for Manipulation and improvement of its productive capacity, for the production of medicines for internal use, cosmetics, household products, related products and the respective raw materials for the improvement of pharmaceutical care and Of the internship program.
The Department of Biochemical-Pharmaceutical Technology (FBT), which maintains cooperation protocols, agreements and agreements and disseminates knowledge techniques through various means of communication.
FCF also issues opinions, advises, and serves the public through the preparation of analyzes. Concerned to maintain and improve the quality of its services, the Faculty seeks to promote events that, in parallel with attendance to teaching and research, extend the activities of extension of services to the Community, as comprehensively as possible.
Due to the great interest of the community regarding important issues related to Biosafety, FCF has been promoting the Biosafety and Descartes Symposium on Hazardous Chemicals in Teaching and Research Institutions since 1999, always counting on a large number of participants.
Last update 20/06/2017 às 10h18